Adapter Collets
Limit Stop Rings and Insertion Tool
The limit stop rings are used to fasten the tools shafts in the automatic tool change. To push the rings on the 6 mm and 8 mm shanks we recommend the DATRON insertion tool.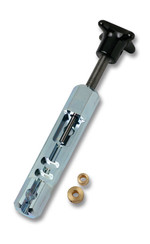 Adapter Collets
With the DATRON adapter collets you may use different tool shank diameters in one spindle collet chunk only. You need one adapter each in the automatic tool change for every tool with a different shank diameter. The adapters are pre-stressed and therefore reuseable. To open the adapter collets you need the DATRON adapter insertion tool, Art. No. 0068337 for 6 mm adapters or Art. No. 0068337A for 8 mm adapters.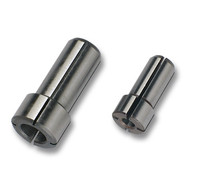 HSK-E Collets
The HSK-E inserts developed by DATRON and Schunk are solidly built and come with a concentricity of < 3 µm and garantee highest precision during the machining process.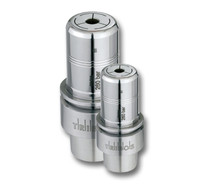 Clamping Devices
The hydraulic Tribos clamping fixture for polygon clamping technique, equipped with hand pump and manometer, does not require any source of energy and can therefore be used in a very flexible manner. Just a few steps are required for the clamping process. Clamping is completed within 20 seconds.
Compared to the shrink technique, this wear-free process does not require any heating up or cooling down phases.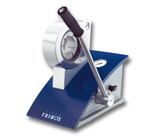 Coating
Our high-quality tools properties can be reopti- mized with special material coatings.
Our special coatings provide a higher hardness and a lower surface finish of the tools. Thanks to the coated DATRON Tools you will work with an in- creased infeed. Abrasion and disruption of edges are obviously decreased.
Benefits
notedly increase of lifetime
decreased chipping force
better chip removal/lead-away

Special Tools
DATRON Special Tools solve your chipping problem! We manufacture carbide special tools in DATRON-quality according to your graphs and designations. Here, we offer e.g. for musical instrument industries, twist drills and special molding tools for mold and model making.