DATRON Dental Milling Tools
Specially optimised Solid Carbide milling tools for dental technology for the machining of all standard dental materials.
Benefit from our know how:
With more than 2,000 installed milling machines world-wide and more than 20 years' know how in high-speed machining DATRON is THE expert when it comes to milling with small tools.
Zirconium Mill
For the machining of unbaked high-performance ceramics such as Zirconium and Aluminium Oxide
DATRON dental ball-nose end mills come with a special cutting geometry. This guarantees highest surface quality. A highly abrasion-resistant diamond coating results in very long tool life, especially when highly abrasive materials are used.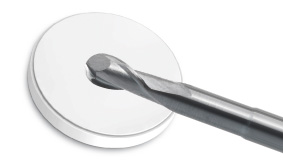 CoCr/Titanium Mill
For the machining of CoCr Steel, pure Titanium and Titanium alloys
The cutting geometry of this milling tool has been specially designed for the high demands when hard-to-cut milling materials.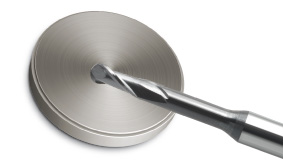 PMMA/Wax Mill
For the machining of Acrylic polymer and wax blanks
Especially when milling soft materials, the polished flutes of this milling tool allow for burr-free and neat milling results. Ample chip space guarantees clean chip removal.
Optionally, this milling tool is available with XTS coating which considerably increases the tool life.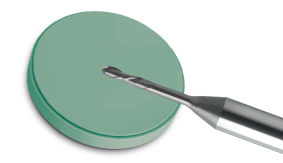 Nanocomposite
For the machining of Nanocomposite blanks
The tool is supplied with a special XTS coating on the flutes and has a wider chip space.
Especially when using this material this will result in higher tool life.